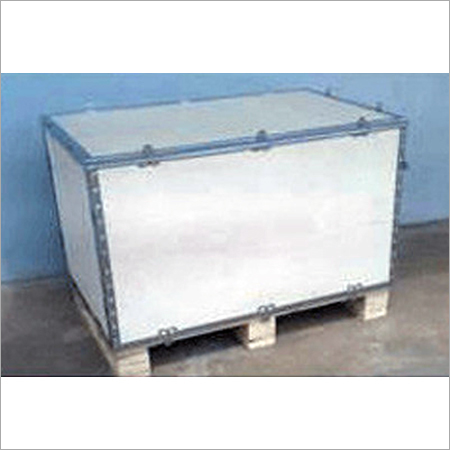 Foldable Plywood Box
Product Code : 32
Product Description
Both Nail Less Type B and Nail Less Type C Plywood Boxes are foldable. Apart from the Type, every feature of these two boxes match. For instance, both boxes are made from wood, especially plywood. Use of these boxes is to store industrial tools and can be recycled. Sold under the brand name Punj Pack, these boxes are configured using plywood and galvanized steel strip, and screen printed.
The box assembly of type B has three parts, which are assembled together to make a box unit. The type C has four parts, which are assembled together to form the box unit. These boxes have a top, bottom and four sides which are joined together using Galvanized steel strip, giving it a strength and flexibility to simplify the process of box assembly and withstand the design load. This box is often called Three Piece Type Box and sometimes Foldable Box.

Key Features:
These boxes have clean surface which reduces the risk of the scratches on the product.
These are light weight and can deliver more quantity and can have very less volume weight.
These perfectly suit the transportation mode, which is air cargo. It reduces the overall expenses on the product.
These are robust, strong and hard to break.
The load on these pallets is distributed on all corners uniformly, making them stronger.
These also reduce the transportation cost.
The steel stripes used are cut using PLC machines. The steel protects the same from rust.
The ROHS compliant steel & plywood are used.
For the compatibility factor, the use of wood can be eliminated. This compatibility is in like with Phyto-Sanitary regulations incorporated with ISPM-15 standards.
These boxes are ideal for all products, from light weight to heavy ones.

Foldable Plywood Boxes are ISPM 15 Compliant
* These foldable boxes save the storage space.
* These high strength and durable boxes can be stacked and reused.
* These are convenient to fold, disassemble, pack and transport.
* These foldable plywood boxes can be customized to your requirements.